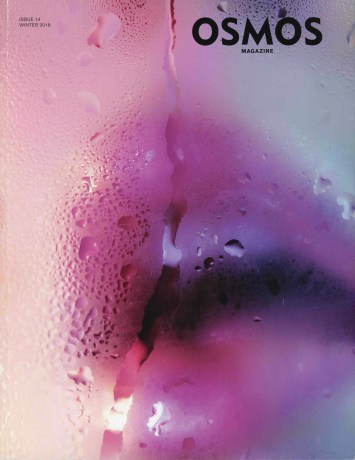 OSMOS Magazine
Issue 14, Winter 2018
...in the context of Bark's performance-based pieces such as Self-Portrait in 14 Booths (April 12, 1969), Lights: On/Off (1974), and Neutron Readings (1975), the booth, with its curtain and public/private implications, could be interpreted as a sort of theater and the goings-on within as a sort of performance. During a radically pluralistic 1970s, when the gallery and museum as hegemonic spaces were being challenged and the body itself was rapidly rising as a site and medium, booth and Bark's body within can easily be read alongside works such as Vito Acconci's Seedbed (1972), Robert Smithson's Yucatan Mirror Displacements (1969), Ana Mendieta's Silueta series (begun in 1974), and in the wider framework provided by Allan Kaprow and his Happenings beginning in the early 1960s. Against the background of Civil Rights, civil disobedience, Vietnam, gay rights, and women's liberation, the body (and performance) emerged as both the site of real struggle and as a leitmotif of the avant-garde.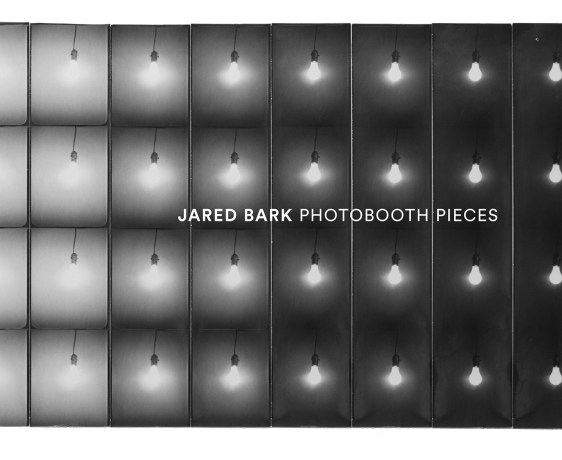 Edited by Barney Kulok. 2016 New York, NY, Hunters Point Press
Jared Bark: Photobooth Pieces brings together for the first time in print a body of work little known or seen for nearly 40 years, by the pioneering American performance artist Jared Bark (born 1944….The works are all reproduced at full scale and the book includes an essay by art historian Catherine Damman and an interview with the artist by Hannah Howe and Elizabeth Easton.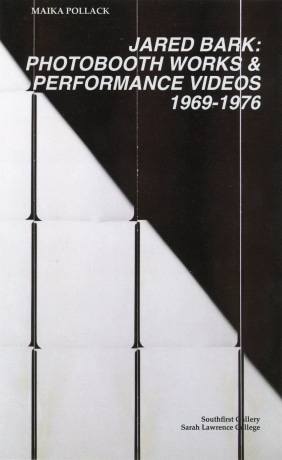 JARED BARK: PHOTOBOOTH WORKS & PERFORMANCE VIDEOS 1969-1976
Edited by Maika Pollack. 2015 Object Relations and Southfirst Gallery, New York, NY
Jared Bark: Photobooth Works and Performance Videos, 1969-1976 is published on the occasion of Bark's Fall 2015 exhibition by the same name at Southfirst gallery (Brooklyn, New York) and Sarah Lawrence College (Bronxville, NY). The pamphlet consists of four previously unpublished texts: two descriptions of Bark's performance work (LIGHTS: on/off, 1975, at the Idea Warehouse, NY, and Zero-G, 1976, at the Whitney Museum of American Art) by theater historian Stefan Brecht, a letter by Jared Bark to the documenta 6 performance curator Joachim Diedrichs, and an essay by exhibition curator Maika Pollack. The publication's texts connect the legacy of serial photography with downtown performance and dance in New York during the late 1960s and early 1970s.
Additional Publications
2019
"Shape of Light: Defining Photographs from the Frances Lehman Loeb Art Center," Vassar College, NY

2018
"Shape of Light: 100 Years of Photography and Abstract Art," Tate Modern, Tate Publishing, London, UK
2017
"Borrowed Light: Selections from the Jack Shear Collection," The Frances Young Tang Teaching Museum and Art Gallery, Prestel Publishing, New York, NY
2014
"Hooray for Hollywood: Celebrating Holly Solomon." Mixed Greens Gallery and Pavel Zoubok Gallery, New York, NY
2013
Sanders, Jay with J. Hoberman. "Rituals of Rented Island: Object Theater, Loft Performance, and the New Psychodrama—Manhattan, 1970—1980." Yale University Press, New Haven, CT
2012
Catalog. "Behind the Curtain—The Aesthetics of the Photobooth." Musée de l"Elysée, Lausanne, Switzerland.
1983
"Holly Solomon Gallery Inaugural Exhibition." Holly Solomon Gallery, New York, NY
1981
Brentano, Robin and Mark Savitt "112 Workshop, 112 Greene Street." Robin Brentano and Mark Savitt New York University Press, New York, NY
1980
"Holly Solomon Gallery: Three More." Holly Solomon Gallery, New York, NY
Plous, Phyllis and Steven Cortright. "Invented Images," UCSB Art Museum, University of California Santa Barbara
1977
Catalog. documenta 6. P. Dierichs, Kassel, Germany
Catalog. 10e Biennale de Paris. Paris, France
Rooms PS1. The Institute of Art and Urban Resources. Queens, NY
"Holly Solomon Gallery: The First Two Years" Holly Solomon Gallery, New York, NY
1976
SoHo: Downtown Manhattan. Akademie der Künste, Berlin, Germany
1971
Groh, Klaus. If I Had a Mind…Concept-Art/Project-Art. Dumont Aktuell, Germany
1969
Szeeman, Harold. When Attitudes Become Form. Bern, Switzerland